I am a caring clown named Zoē, whose mission in life is to make little hearts happy.

I'm often asked, "What made you want to be a clown?" It goes back to my high school years when I decided that I wanted to bring joy and happiness to sick children. After graduation, I took my first clown class. It was a flop… the teacher hardly ever showed up and it was filled with kids only taking the class for easy credit. Sadly, I dropped the course after 2 useless weeks and tucked away my dream of working with sick children for a very long time.

I've always known in my heart that I needed to work with children in need, be they sick, abused, homeless, or just in need of a little sunshine in their young lives. One day I decided it was finally time to take action.

In early 2007, I hosted a hat drive for children with cancer and met some really amazing kids. They totally tugged at my heartstrings and I realized it was time to find a way to connect with these children more often. I felt they needed me, and in a way, I really needed them. Around this time, I was at an event and met a clown…oh my gosh, there was my sign! Bells, whistles, and fireworks went off in my head as old thoughts of wanting to be a clown came rushing back. This was it! This was how I was to achieve my dream of working with these children I so desperately wanted to help. I raced home to my computer and started looking up how to be a clown. The first thing that popped up was Mooseburger Clown Camp in Minnesota…. MINNESOTA? Never been to Minnesota. It looked amazing, a summer camp for clowns. This was too cool! One week with 90 other clowns, how fun was this going to be? So, with support from family and friends helping me realize I wasn't totally crazy, I decided to go for it. Camp was just a few months away and I couldn't wait; what was this new adventure going to be like?

The first thing I had to do was figure out my clown name. I came up with "Zoē" because it is fun to say and just makes me happy. Ok, now I was ready for camp. Finally, the day arrived and I packed up my excitement, my enthusiasm and my desire to be the best clown I could be, and headed to Minnesota for my introduction into this wonderful world of clowning. WOW! There aren't words to describe my experience. The best week ever? Amazing? Beyond incredible? Spectacular? Simply said, it was the most magical week of my life. The teachers were "the best" and I learned everything from how to apply clown makeup, to clown movement, to costuming, to how to be a great hospital clown and more. I also made some incredible new lifelong clown friends.

I recently got back from my sixth super amazing summer at Mooseburger Clown Camp. Once again, I came home filled with tons of new information, new skills, new clown friends and bursting with happy from this awesome experience.

Clowning has brought more joy than I could have ever dreamed into my life. When I put on that big red nose and my big cute shoes, I am transported into a magical world of play, and when I make that wonderful connection with a child who needs a bit of "happy" in their day, it makes me know that I am on the right path with my life. One day I was at an event for children in need and a little girl about 6 years old came up to me and said, "Clown, you're the best clown I ever met. Do you know what good you are doing?" Need I say more?

One of Zoē's most amazing experiences has been going to India to clown for children in orphanages, very poor villages, a home for children with aids, schools and churches, bringing joy, smiles and laughter to children on the other side of the world. I never imagined in my wildest dreams that I would have an opportunity like that. Words can't express what a life changing experience it was for me. See the pictures on my India page to share some of the joy I was so very blessed to get to experience. I've now been to India two times and am sooooo grat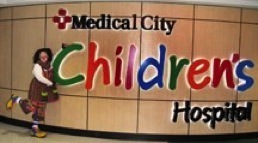 eful for the wonderful experiences I got to share with the beautiful children of India... what a lucky clown I am!
Zoē  is also very proud to be the official "Medical City Children's Hospital Clown" and visits sick children one day a week... it is her ABSOLUTE "Dream Come True". I'm so incredibly grateful for this journey. Just knowing that when I take off my big red nose at the end of the day, that I've made a difference in a young life, well…It doesn't get better than that.